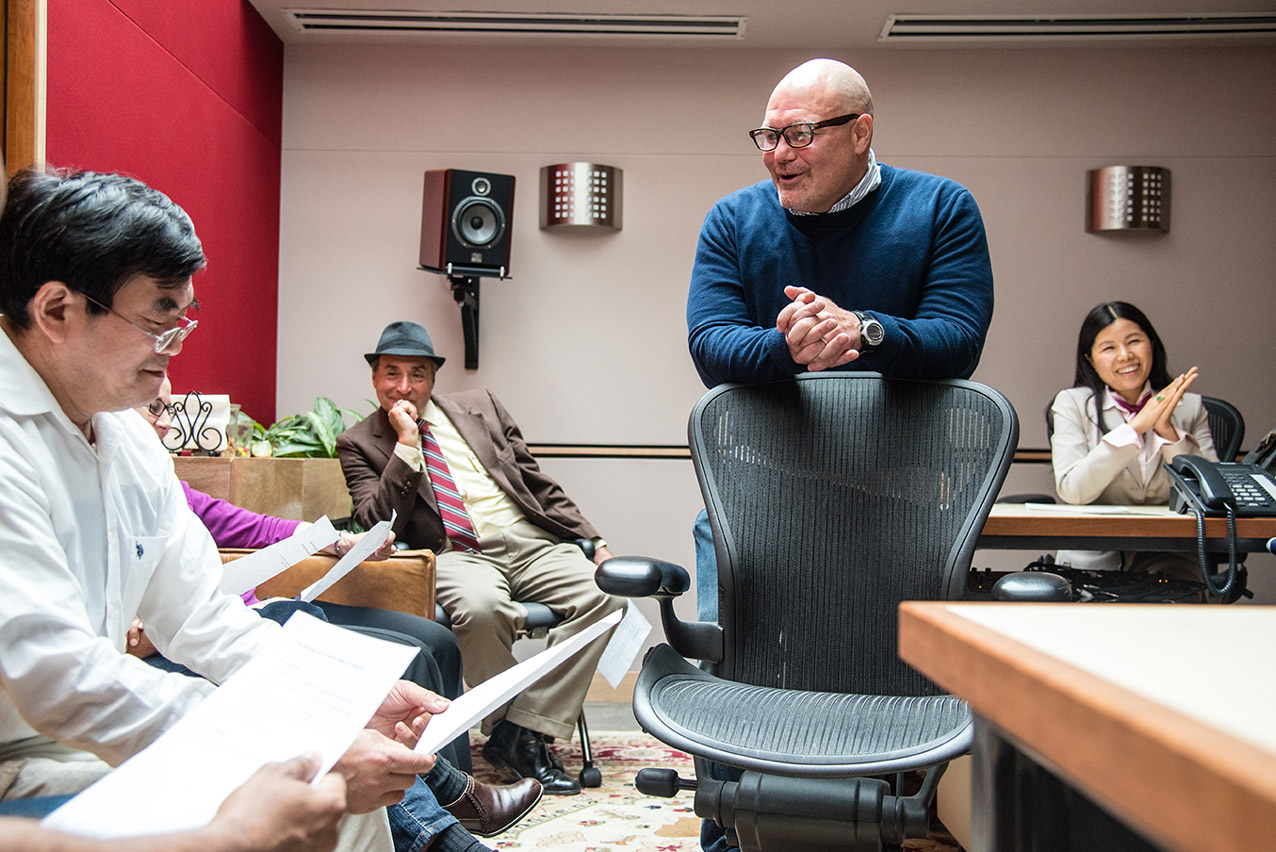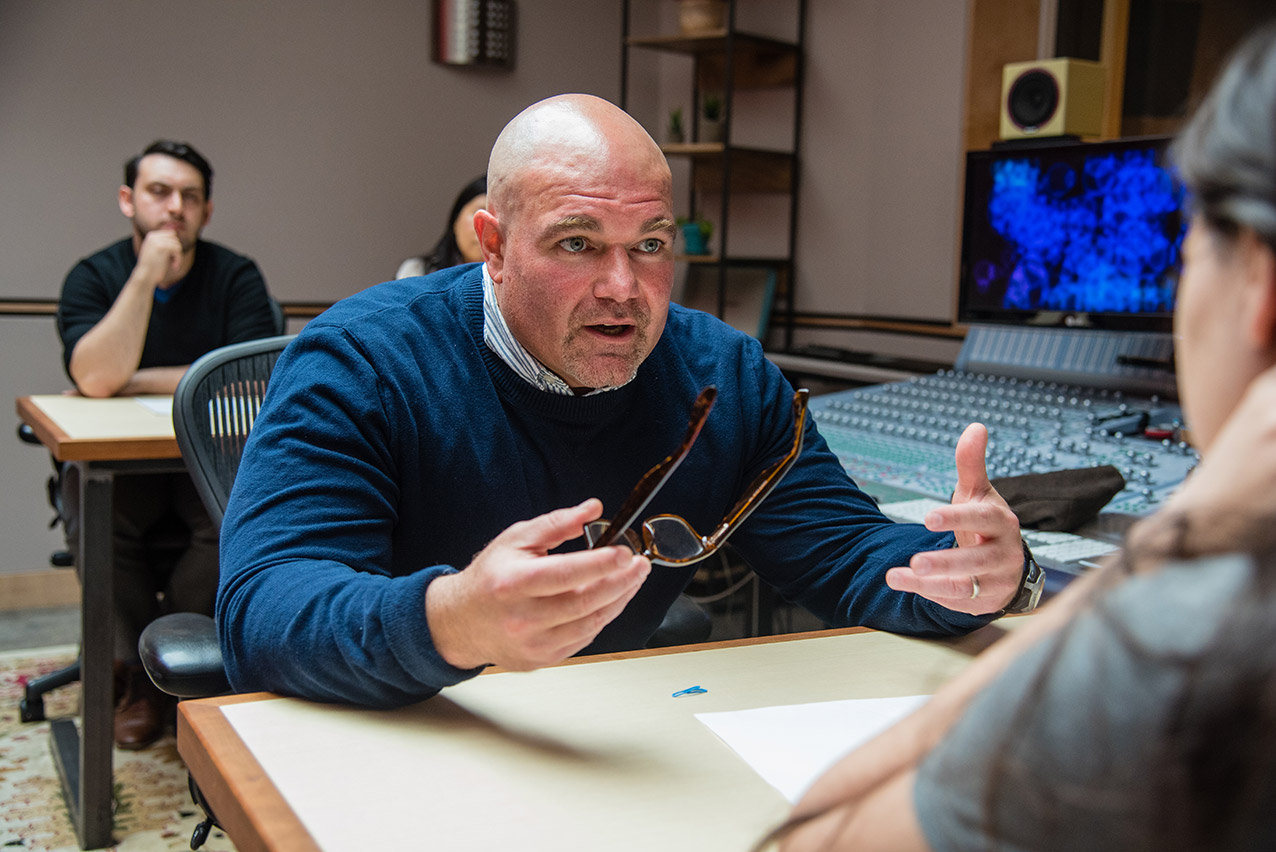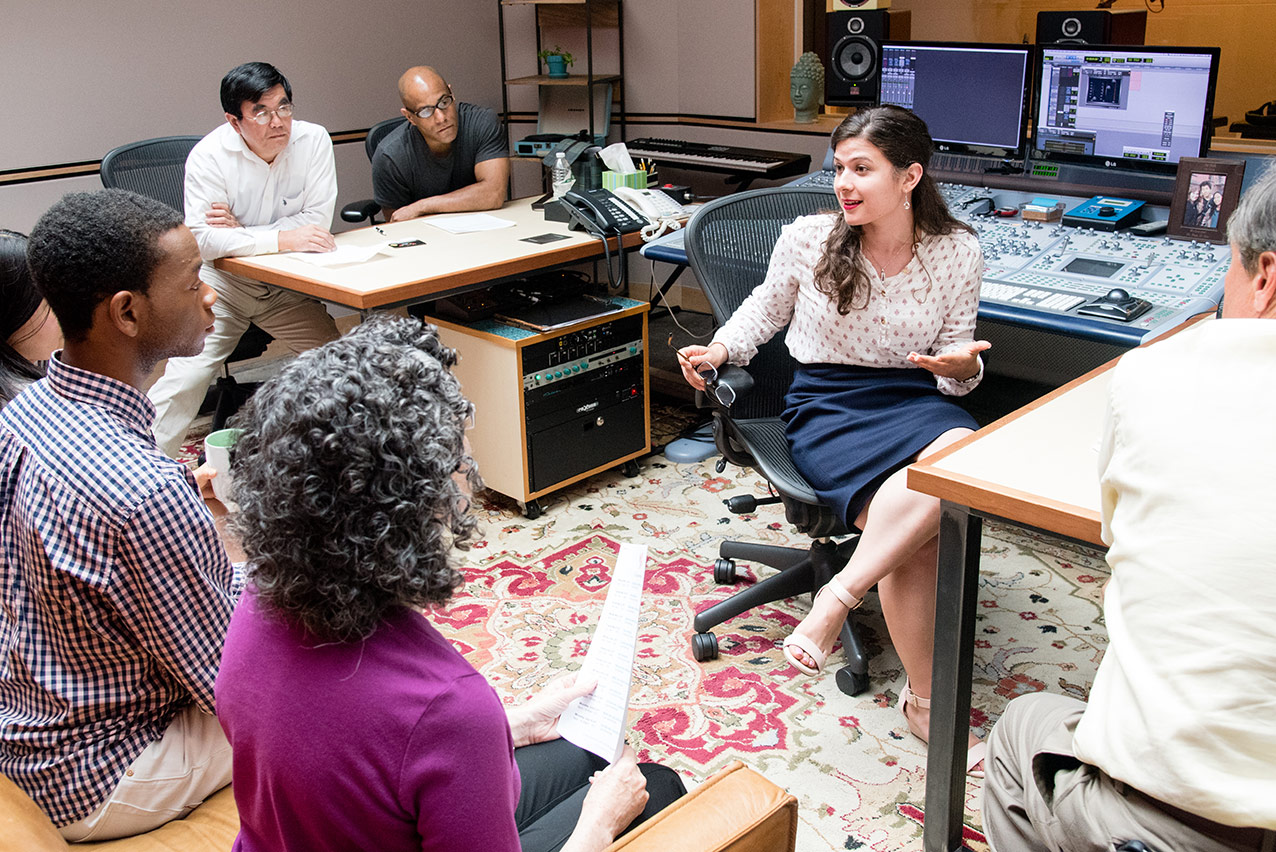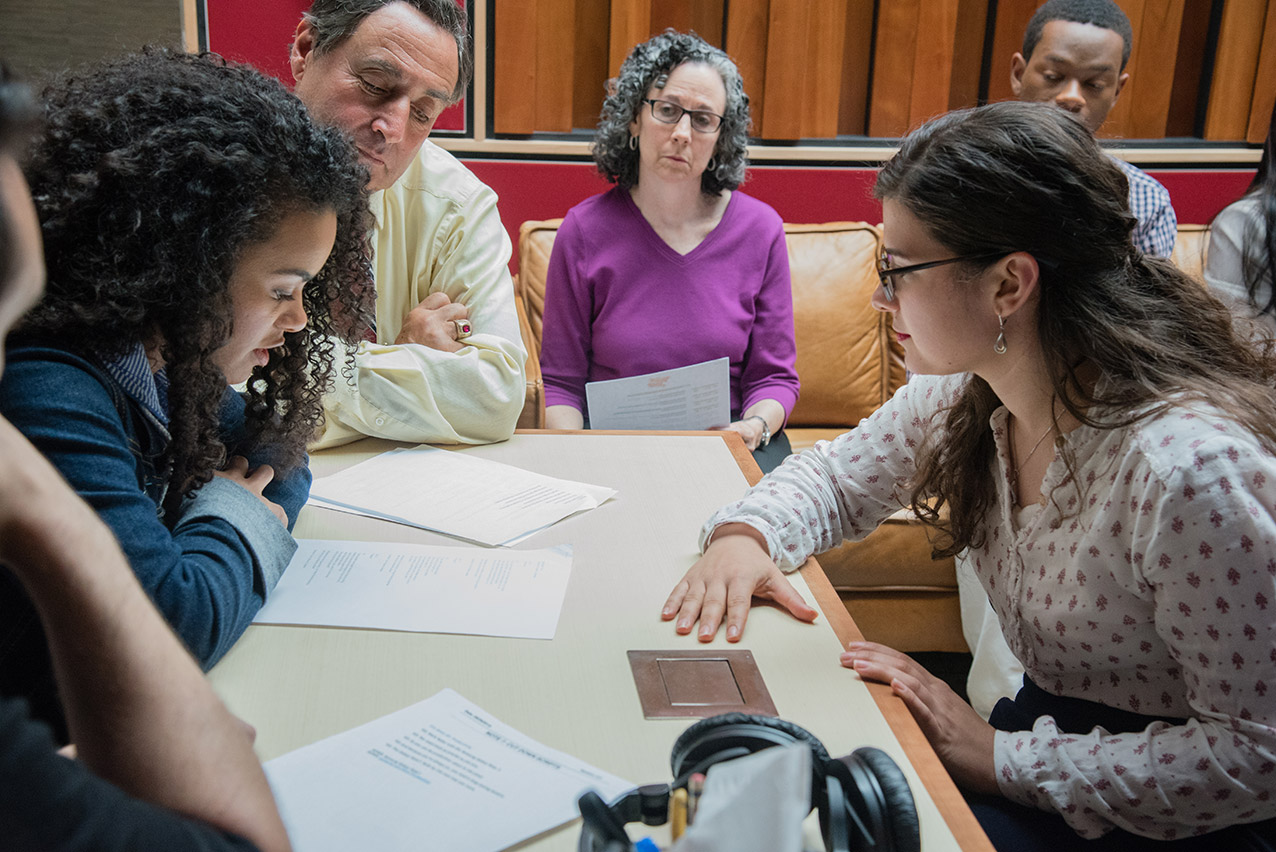 Voice over Coaching Classes
Let The Voice Shop At CMD prepare you for a lucrative career in Voice Over, a rapidly growing 15 Billion Dollar industry. The Voice Shop is CMD's voice over coaching and education initiative. Our mission at The Voice Shop is to establish and develop the skills necessary for you to succeed as a voice over professional.
CMD is a premiere casting, recording and mixing studio whose high profile, high volume commercial needs require hundreds of voice over artists every year. Our clients include UNICEF, Mastercard, Mercedes Benz, Calvin Klein, NBC, ESPN, Telemundo, Sony, and more. We are always looking for talented VO artists who meet both client needs and our high standards of VO excellence.
Whether you are a beginner or a seasoned pro, we offer a wide range of voice over classes, workshops and private lessons taught by esteemed industry veterans. The Voice Shop gives students both the skills and industry-savvy knowledge of VO to take to CMDs clients and elsewhere in the industry.
In addition, we also offer Free Consultations to give you an in depth look at our class offerings and to help you determine which class is the best fit for you. Give us a call or send an email to set up time to meet with Jessica, our Director of Education. You'll get a tour of our studio, a personal assessment, and a chance to ask any questions you may have free of charge. Take advantage of our Free Consultations to get the support you need, at the exact moment that you need it.
You can join us here at our state-of-the-art New York City recording facility or utilize our online webinar options to learn anywhere. Shift your voice into high gear at The Voice Shop today.
To learn more about CMD click here.
If you'd like to join our Voice Shop email list, you'll receive information about our upcoming classes and new coaches. We NEVER share our email list with any third parties.
STUDENT SUCCESS STORIES
Our students have gone on to very exciting voice over careers. CMD has hired many students from our classes who have become regular working voice actors for CMD projects. You can hear our students' voices on commercials for:
Student Spotlight: Wolf Williams
We at The Voice Shop are so proud of our students and their accomplishments, and we want to spotlight the amazing Wolf Williams. His inimitable baritone was one of the first to grace The Voice Shop classes, and Wolf has since found great success in animation and voiceover. We had the privilege of cutting his demo reel and we are elated to see his growth and success in the business. Wolf has a voice both commanding and comforting, and we are confident that he will see continued success in the field. You can hear him now on the comedy-fantasy podcast Wizazon (think Tolkien meets The Office) as Seth the Dragon, and in his audiobooks for nonprofit Learning Ally. Keep on howling, Wolf.
"I have taken several classes at The Voice Shop and highly recommend that anyone interested in the voiceover world or even those who are simply looking for a refresher course, try the classes. Michael George is an incredible coach. His knowledge, experience and passion for the voiceover business is unmatched. He has the incredible ability to steer you in the right direction and help you find the voice that is unique to you. He is inspiring, motivating and I left his class with a new found confidence and the motivation and roadmap that I didn't have before. If you are considering getting into voiceover work or have worked in voiceovers and are looking for classes that will help you build on the skills that you already have, the voice shop is the place for you!"
• Dana P - professional VO artist
"Any working VO artist knows that learning never stops, and taking Michael George's class at The Voice Shop was just that and more. A true gift! Michael imparted his wealth of knowledge onto us and I gleaned things from his class that I used in my very next audition. Michael critiques your reads thoughtfully and his personalized feedback in the moment helps you deliver a more compelling read. Michael was a stranger to me, he did not know my work, my strengths or my resume, and his genuine interest in myself and each of my classmates is what sets him apart from other coaches and instructors. If you want to grow as a VO actor and feel more confident in your approach, get yourself to The Voice Shop!"
• Diahanna D - professional VO artist
"Michael George provided me with my very first introduction to the art of mastering voiceovers. We worked on commercial and promo technique, and nailing auditions in the VO booth. Mike gave me the tools to quickly and easily interpret VO copy in any situation. His expertise, enthusiasm, encouragement, and warmth helped tremendously in the process. I am forever grateful to Mike, who gave me my start in this career, and am currently a happily thriving, working voiceover artist."
• Allegra C - professional VO artist
"Coach Allyson Johnson was amazing, working with me one-on-one to achieve more in an hour than I thought possible. She encouraged me to push hard to improve my technique and made the whole experience fun and challenging."
• Margaret L - VO student
"As an Actress/Voice-Over Talent new to NYC 15 years ago, I was searching for any 'rope to hold onto'. Michael George is one of the most professional, dedicated, and supportive people in the industry. Not only does this make him a great casting director, but also an awesome teacher! I'm very happy to know him and work with him to this day."
• Carolyn H - entrepreneur/small business owner, VO talent
"I would not be the voiceover artist I am today without Michael George's coaching skills."
• Judd H - professional VO artist
Michael George has literally "done it all" when it comes to voice over. Having founded CMD in 1998, he has been an engineer, mixer, producer, director, casting professional, voice actor and of course a teacher. Michael's unique background allows him to approach the craft of voice acting with a more holistic sensibility. He believes the most important role of a voice over teacher is to help actors find their most authentic voice. Michael's voice has been heard all over the world - his credits include Evian, Kia, Hilton, Dannon, Coca Cola, Disney, Motorola, The NBA, KRAFT and Citibank.
Pete Rohan Is an audio engineer, audiobook producer/director and owner of Rohan Audio, an independent studio in NYC. He produces high quality audiobooks, provides consultations for home studio design, and develops and teaches workshops on home studio production. Pete is proud to have produced several audiobooks that have received or have been nominated for Audie and AudioFile Earphone Awards, including In Harm's Way: The Sinking of the U.S.S. Indianapolis and the Extraordinary Story of Its Survivors; and Capital Offenses: Business Crime and Punishment in America's Corporate Age.
Steve Tardio is a SAG-AFTRA professional voiceover artist with over 10 years of training and experience. Steve's unique sound brought him into the world of voicing animated characters for animated shows/features, commercials, promos, audiobooks and video games. Steve's credits include Disney Channel, Nickelodeon, Harper-Audio, Fisher-Price Toys, Dannon Yogurt, Pepsi, Ford Motor Company, NBC-TV, Food Network, NBA-TV and Vevo.com. Steve feels improv is an important tool to have in your "voiceover actor belt", especially in the world of animation, so Steve has been studying, coaching and performing long form and musical improv on various teams in NYC; with training from the Second City-Chicago, the Upright Citizens Brigade, the Peoples Improv Theater, Chicago City Limits and the Magnet Theater. Steve is also a musician and has played "Paul" in Beatles tribute bands!
Jayme Mattler has spent years working in voiceover as an engineer, director, producer, and voice talent. She has recorded over 700 audiobooks as an engineer/director and over 50 as a narrator. Her work in the industry led her to the SAG-AFTRA Foundation where she was one of the founding engineers at the EIF Voiceover Lab, coaching and directing actors on the art of voiceover. Over the years she has worked on audiobooks for Audible, Harlequin, Penguin Random House, Simon and Schuster, Recorded Books, Harper Collins, and ACX. She has recorded two Grammy nominated projects, as well as many Audies award-winning and nominated books. At present, she is the NYC Producer/Director for Blackstone Publishing.
Michael Pomposello has been executing successful influencer marketing campaigns for small brands and the Fortune 500 for the past 5 years. He has seen it all and is eager to share his learnings to anyone who wants to get started as an influencer.
Jessica Schechter is the Director of Education for The Voice Shop as well as a VO talent for CMD. She has an MFA in Directing from the Actors Studio Drama School and a Bachelors degree in Educational Theatre from NYU. She has voiced spots for McDonalds, ADP, Ex Vivo Dynamics, Ohel Service Organization, and has recorded many broadcast PSAs. Jessica is a director member of The Actors Studio's playwright director's unit and teaches theater and public speaking. Jessica is co-producing and acting in the comedic web series "Soon By You". She is very excited to be a part of The Voice Shop team.
Gudrun Buhler has more than 20 years of experience helping singers, actors and voice over artists develop the tools they need to deliver with ease and consistently perform at their highest level. She has been working with the fabulous CMD team for over 5 years as a voice over talent and as a language supervisor. Trained as an opera singer and actress, her greatest passion is the voice. Gudrun's performance in her one woman show Mozart's Women won best singer, best play and best original play at the 2017 New York Theatre Festival. Gudrun holds a Master's degree in vocal performance from Manhattan School of Music.
Jacob Smith is a senior podcast producer at Pushkin Industries who works with Malcom Gladwell on Revisionist History and Broken Record. He previously worked on You Must Remember This, Family Ghosts, Empire on Blood and The Grift.
Carol Monda is a veteran actor of stage, TV and film, and a voiceover artist whose clients include Turner Classic Movies, McDonald's, Discovery ID, The Guggenheim, NY Historical Society, HSBC, Red Cross, CitiCorp, and the Toronto Symphony Orchestra. She is also an Audie-Award winning audiobook narrator of over 450 titles across many genres. She has designed and led classes in acting, voice and speech, scene study, audition techniques, text analysis, accent reduction, audiobook narration and a broad range of commercial and narrative voiceover. Carol has been an adjunct professor in both commercial voiceover and narration at NYU's Digital Design and Film School and has taught Voice and Speech III at NYU's Tisch School for the Arts. Currently, she coaches, teaches classes and directs VO demos. Carol is a member of Actors' Equity Assn and Sag-Aftra, where she serves on its National Audiobook Steering Committee.
Ernesto De Villa is a Mexican actor based in New York City. He began his career in 1980, completed his professional studies at the "National School of Dramatic Arts" at National Institute of Fine Arts in Mexico City, has worked as an actor, director, producer and acting coach and Voice Over coach in New York city. He directs his own theater company, 88 Performing Arts Theatrical Company, with which he has made several theatrical productions, and some video productions. In addition, he teaches acting and voice over at 88 Acting Studio. Since 2005 he is member of the Spanish Repertory Company. At this present time is working as Associate Artistic Director at Teatro LATEA. In the Voice Over field he is casting director for Sticky Audio Labs, and coach of several professional VO actors.